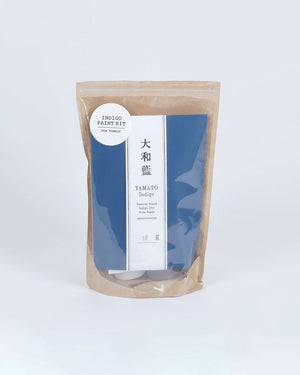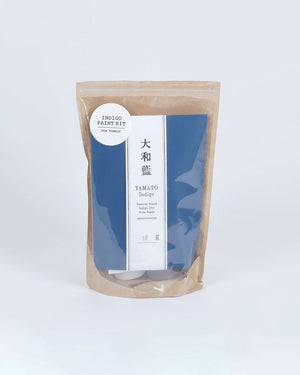 Yamato Indigo Fabric Paint Kit
Express your creativity on fabric with the Yamato Indigo Dye Kit. Everything you need to make genuine indigo paint for fabric is included. It's super easy to get going: just mix the powder dye with the binder, pick up a paint brush and you're set!   
The kit includes: 
10g of Yamato Indigo
100g of Yamato Indigo Paint Binder 
100g of 30% Vinegar 
A pair of latex gloves 
Instruction Sheet
Please note, this binder works only with Yamato brand Indigo dye. Recommended for use on natural cotton and linen fabrics, not for use on silk or wool. Learn more about using this natural pigment in How-To: Indigo Dye.
About Yamato
Yamato Indigo is indigo powder dye developed by Aikuma Senryo, a company founded in 1818 in Tokyo. The company was originally a Chinese herbal apothecary and later began supplying dyeing supplies. In the 1870s, when indigo was exceptionally valuable, Aikuma Senryo developed a method for extracting the indigo pigments from old indigo-dyed fabric. By boiling the fabric in water, a clay-like dye called airou (indigo wax) was created. Airou became a popular option for dyers until synthetic indigo eventually became available in Japan.  Based on this method of making airou, Aikuma Senoryo created Yamato Indigo, a powder dye consisting of extracts from indigo plants, chemical indigo, alkaline agent, and reducing agent.